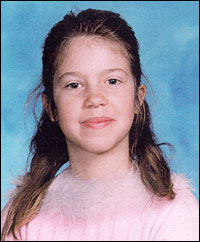 Remembering Holly
TORONTO - Dignitaries and hundreds of other people gathered at a church in Toronto on Tuesday to say goodbye to a 10-year-old girl whose life came to a brutal end last week.

Holly Jones disappeared in the early evening of May 12. The next day, her remains were found in different places along the Toronto waterfront.

Those remains were carried into West Toronto's St. Vincent de Paul Roman Catholic Church in a small, light-beige coffin. It was the church where Holly was baptized, and where she received her first communion.

A lone piper played Amazing Grace.

The church was packed. The mourners included Ontario Premier Ernie Eves, Toronto Mayor Mel Lastman and Police Chief Julian Fantino.

Hundreds more outside listened to the service on speakers. Tears flowed freely.

Fr. Daniel Utrecht read out a letter that Maria Jones, Holly's mother, had written to her little girl. She called her an angel with wings now who would never have to be scared any more.

While people said goodbye, the hunt for her killer continued.
"We have a very dangerous person in our midst," Staff Insp. Gary Ellis of the Toronto Police Service's homicide unit told reporters.

He said police would be pulling out all the stops in trying to find her murderer. Three teams of homicide investigators and three teams of sex crimes investigators have been assigned.

When asked to describe who the police were searching for, Ellis said, "a predator."

Ellis said this was "the most serious of crimes" because the victim was a child – "society's weakest person."

Jones, who lived in a west Toronto neighbourhood, was last seen around 6:30 p.m. Monday night. She had walked a younger friend home then didn't come home herself. A full-scale search began around 9 p.m. Monday.

Human remains were found in two locations around Toronto's waterfront Tuesday morning. After identifying the body Tuesday afternoon, police told Maria Jones and George Stonehouse their daughter was dead.

Ellis said police also found a black Lynx gym bag and a Cherokee black carry-on suitcase. He asked members of the public who saw anyone with such baggage on Monday night to contact police.

An "Amber Alert" was issued Tuesday morning. It is a quick-response strategy used when a child's kidnapping is suspected.

Written by CBC News Online staff
How Amber Alerts work:

The Amber Alert system is a quick-response strategy in which descriptions of victims and suspects are broadcast on radio, television and highway information signs within minutes of a suspected child kidnapping.

Broadcasters are asked to put the information on the air as soon as they receive it, and anyone seeing someone who matches the description is urged to call police right away.

The program is named for a nine-year-old Texas girl who was kidnapped and murdered in 1996.

Written by CBC News Online staff
---
Holly's Memorial Site

---
They got him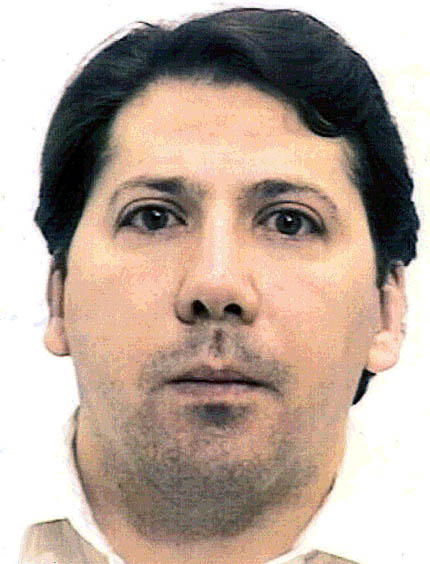 The face looks like anyone you'd see on the street. But police contend it's not. They've finally released a picture of 35-year-old Michael Briere, the man arrested for the killing of little Holly Jones. The photo comes as a complete turnaround from the request made by authorities on Friday, when the software developer was first taken into custody.

They were worried his likeness would taint witness memories. But now authorities seem convinced they may enhance them instead. And they're hoping someone remembers seeing Briere around 6pm May 12th, the night Holly never came home.

And they're also tracking his other movements. "We are asking anyone who may have noted the accused, while using the Bloor Street subway line on Monday May 12th at about 9pm, travelling eastbound to University Avenue station and southbound on the University line to Union Station," Fantino pleads. "From Union Station shortly after 9pm, anyone who saw the accused walking southbound on Bay Street to the waterfront area carrying a bag is asked to contact … the Holly Jones Task Force. Also, please take your minds back to 6am on Tuesday, May 13th, and anyone who noticed the accused carrying a bag, travelling by street car along the Roncesvalles line to King Street West … and by foot to the Lakeshore area at Aquatic Drive south of the Canadian National Exhibition grounds."

The accused is described as:

* White,
* 35,
* 5'8",
* 200 lbs.,
* Dark hair,
* Slight accent.

If he looks familiar, police need to hear from you at (416) 808-8390.

* Briere was arrested at his home on Bloor St. W. His residence is located at the halfway point the 10-year-old would have passed as she made her way home from a friend's house May 12th. Her dismembered body parts were found along the lakeshore the next day. Briere came to the attention of authorities because he refused to take a voluntary D.N.A. test. Officers asking him to participate apparently noticed some green mats in his bathroom that were similar to fibres found on Holly's remains. The software developer appeared briefly in court on Saturday. He's due to make his next appearance by video hook-up July 2nd.

June 23, 2003
---
---

---